Mas sabe el diablo por viejo que por diablo
(There's no substitute for experience)

The activities planned for us by the organisers was such an experience..besides gaining a bunch of new friends we also had a fun experience..After breakfast on Saturday we were ushered to the Fun and Adventure section of the hotel..We were going islands hopping..There were 3 boats for 26 of us..around 9.00 the engines started roaring and off we go to our first destination -Pulau Dayang Bunting..

From far the hill on the island really look like a pregnant maiden lying on her back.We spent about an hour at the lake. Some were having fun swimming..riding the banana boat.. or just simply sitting on the deck..and feeling the cold water running through our feet.It was quite frusfrating to know that all the ikan kelis has gone probably disturbed by the memerang earlier in the morning..if not they would happily gliding against your feet..don't put your hand though coz it will sting..

next stop was the Singa besar island for eagle feeding. There were so many eagles flying around when we arrived.The boatman threw some chicken skin into the water and the eagle flew fast and quickly snap the skin.My friend found a hard time trying to take their picture since they were very quick and flew away swiftly..There are 2 types of eagles there ..the plain white one and the brown colored one as you can see at the Dataran lang..

after a few near-missed pictures then we moved on to the Beras Basah island where the sand was white and smooth..the sand was so fine.. and we had a splendid splashing ..ignoring the hot sun..floating and swimming ..simply enjoying the sea..lantaklah sunburn punnn..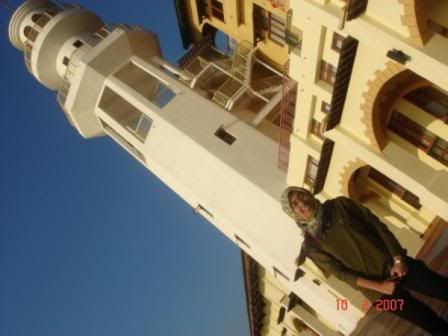 we were back at the hotel around 1pm.. after a refreshing bath..and a heartiest lunch.. we were shown around the hotels..all types of rooms they have..the conference room and also banquet hall..at around 3.30 pm we all brought by bus to the oriental village at the foot of Gunung Mat Raya where the cable car station was.

this is my first time riding on a cable car..so it was quite cool..we could see the telaga tujuh from the air but there was not much water since the dry season was on its way..the second station was on renovaton so we were not allowed to embark there but at the peak station. From there we went down 47 steps .. to cross the mountain bridge..barely sea the island(forgot the name) which actually was on Thailand side..can't even distiguish which was the Selat Melaka and which was laut andaman..huh my geog knowledge very bad huh..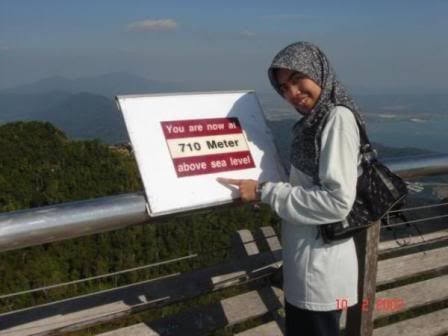 my feet hurt through the night..but I enjoy the BBq so much..especially the prawns..had two plates..nyum nyum..

the next day was our travelling day back to KL..