wah it was nearly a month since my last post..eheh...
Bkn terlupa..tidak juga melupakan..
cuma masa dan ketika tidak mengizinkan
Banyak yg berlaku dalam sebulan ni..
Ada yg suka..dan ada yang duka..
Which one do you want to hear first??
Kata orang siapa di sekeliling kita adalah cermin diri..
I always treasure a friendship..sacred..
Alhamdulillah..dari saat aku mengenal erti kawan..
sekolah rendah..hingga sekarang..
All my friends are still friends..plus we still keep in touch..
Itu yg paling BEST!!
Sorry ye Azah n Geng ZS 1994...tak dpt join girls outing korang..
Hope you all have fun..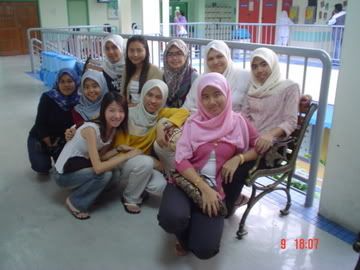 V4C-S1 and V4C-S2 UTP together
HAri yang sama dah janji dgn UTP's housemate nk lunch ngan derang..
Kiterang pi Big Plate kat melawati..really BIG plate..kenyang!!!!



Lepas makan kiterang ramai2 pi HKL melawat baby Syakir..
anak one of our coursemate aka umah depan kt UTP
Sesungguhnya tiada siapa dapat menduga qada' dan qadar tuhan..
Baby syakir meninggal dunia beberapa hari kemudian.
Terdiam bile dapat berita..terkedu bile jumpa lin kemudian..
Tiada kata yang mampu ku lafazkan
Ya Allah tabahkan hati sahabatku menghadapi kehilangan ini
Berikan dia kekuatan.. Hilangkan gundah hati nya..
Berat mata memandang berat lagi bahu memikul..
Semoga lin kuat.. kami sentiasa menyokong kiri dan kanan..