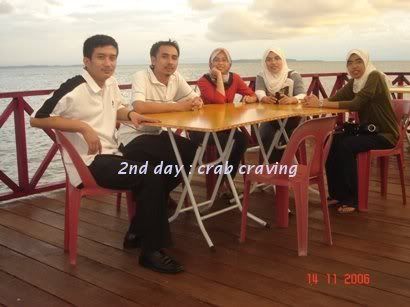 another beautiful view of the sea from the Anjung Ketam at Kg Tanjung Aru
on the other side of the island..15 minutes from the town
the crab there are freshly provided by the fisherman at the village..
the crabs was still very much alive so we can pick any crab that we want..
we took the minibus to get there..minibus no 5 from the bus station in town
doesn't really know where but simply took the risk..
thank god the driver knew bout the place..
although we didn't really know how to get back to our hotel when the bus dropped us there,
we still enjoyed the food very much..especially the crab..
they were big enough ..full of white juicy flesh..
and the masak pedas was so finger licking good.. even talking about it make me hungry..
and it was also cheap..for 2 kg of crab with rice..
and other side dishes plus the drinks for 6 person it only cost us Rm 60++
nyum..
the problem.. we didn't have the transport to go back to the hotel..
The place was far from the main road so obviously no bus..
and it was already dark..no way we will walk to the main road.
asking around..we found a pakcik living near by who has a school van..
so he ended up sending us to the hotel..haha
we paid him of course ..if not we might miss the night lecture.. :D