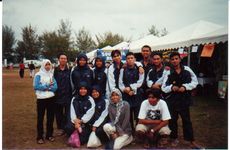 Honam(no2 berdiri dr kiri) asked me to put this picture...haha...
he with some of his silat cekak members..except for the girl in grey sitting in front in the middle.*wink haha
Aku jumpa puisi ni somewhere on the net
so sesuailah dgn korang2 yang suka silat tuh..
silat cekak ke..silat gayung ke..silat jer laa apa2..
yang penting seni silat melayu..
Amanah tuh..warisan bangsa..
banggalah dgn ilmu yg anda ada..
PUISI PAHLAWAN
Seni Silat,
Ia bukan lambang kudrat,
Tetapi,
Dialah perisai satu adat,
Zuriat dan daulat.
Seni Silat seni pusaka,
Ia tidak cuma perisai jiwa,
Malah,
Dialah obor pembakar semangat waja,
Dialah benteng wujud dan wibawa,
Sebuah bangsa dan nusa,
Dan mungkin,
Akan menjadi benteng-benteng sisa,
Untuk melaungkan,
"Tak Melayu hilang di dunia"
Kerana silat dan perwira,
Semangatnya sekeras besi waja,
Seteguh kota Melaka,
Bak kata sumpah mereka,
"Kalau roboh kota Melaka,
Papan di Jawa kami dirikan,
Kalau sungguh bagai dikata,
Badan dan nyawa kami serahkan.."
Petikan daripada Pentomin "Silat dan Pahlawan"
Hasil tinta: A Aziz Darmawi
Cerita Asal oleh Jamaluddin Hj. Hanafi.