This is one of the trip masa kursus kat kluang ari tuh..
Kiterang pegi gotong royong kat sebuah kampung near Pontian
what we did there?..hmm...kutip sampah..bersihkan balairaya..
bersihkan masjid..tanah perkuburan..cat pasu-pasu sepanjang jalan kat pekan tuh..cat all the road divider..putih hitam tuh.. Fun..
A treat from the people ..makan ubi rebus dgn sambal ikan bilis..plus air kopi and kuih2..
and petangnya pegi Tanjung Piai.. actually nama tempat tu Hutan simpan paya bakau TAnjung Piai..and we went to the right spot..the southest point of mainland Asia. Di situ pertemuan selat johor dan selat melaka. Nampak Singapore..and port Tanjung Pelepas kat situ..and..bila pegi kat jeti nampak pulau indonesia..lupa dah nama pulau tu.. masuk meredah hutan pokok bakau..baru aku tau...paya bakau ni membersihkan laut..seme sampah yg hanyut di laut..tersangkut kat sini..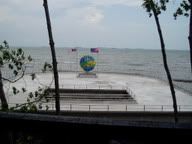 Tanah paling selatan..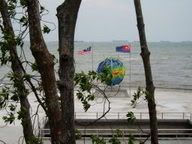 nampak cam ala2 bangunan kt horizon tu..singapore aa tu..
jalan-jalan nampak selipar jepun..plastik..kayu-kayu balak..macam2 lah..
so time korang pi main pantai kat lumut tuh..kalu terhanyut selipar..agak2..ntah selipar korang ada kat sini2..hehe..